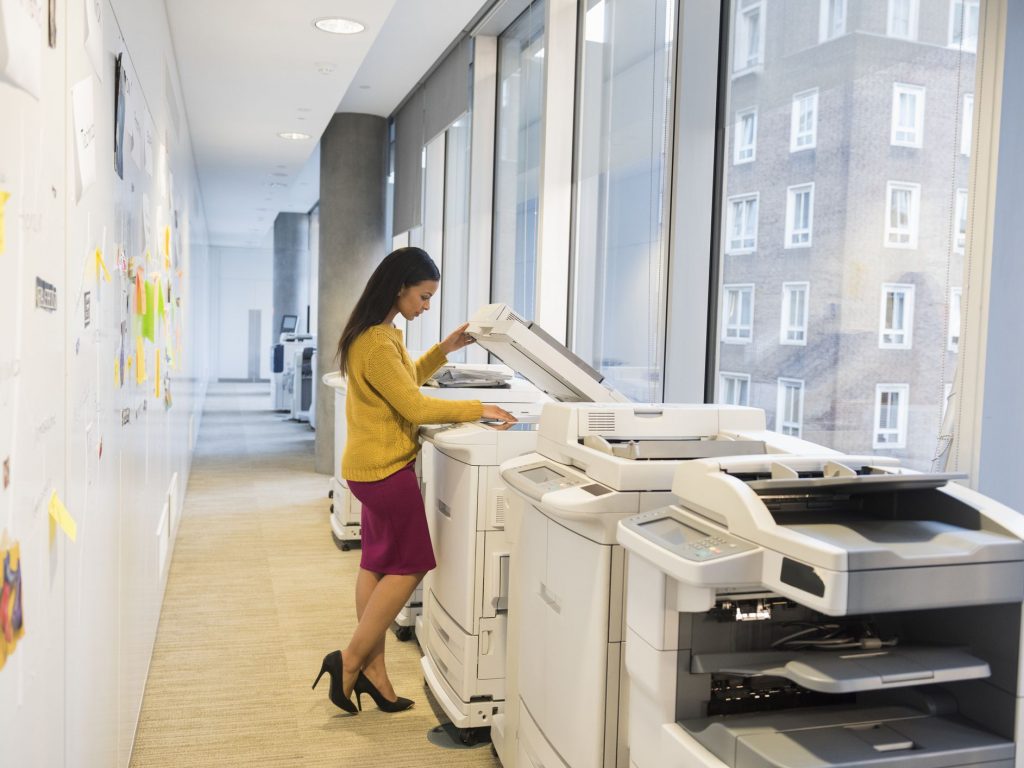 Teachers are frequently overloaded with tasks with near-approaching deadlines. That's why they must not get compromised just by a poor-functioning printer. When it comes to the best performing printers out there this year, 2021, here are the top three printers that are worth looking for:
1. Epson EcoTank ET-4760 Wireless All-in-One Cartridge-Free Supertank Printer
The safest to assume to be the printer a teacher could ever ask for. This printer ditches in the conventional cartridge system favor a refillable ink tank. A single color page will cost you as low as 1 cent instead of 20 cents with regular ink cartridges. Print quality is top-notch, thanks to the PrecisionCore technology that produces 40 million precision dots per second with utter accuracy.
What's more, the ET-4760 printer supports automatic duplexing so that you can print double-sided exams and assignments easily. You also get a 30-sheet Auto Document Feeder to easily scan or copy multiple documents at once.
The icing on top is that it comes with two years worth of ink, so you don't have to worry about ink costs for a long time.
As for connectivity, the EcoTank ET-4760 supports USB, Wi-Fi, and ethernet. The printer is also equipped with a 2.4″ screen for quick controls.
2. HP Color LaserJet Pro Multifunction M479fdw
The HP LaserJet Pro M479fdw is a powerful all-in-one laser printer that has many tricks up its sleeve.
It features a suite of embedded security features to protect you from cyber-attacks. The LaserJet Pro is pretty fast, with a maximum print speed of 28 ppm. You can also print double-sided documents with the auto-duplexing feature.
The input paper tray can take up to 300 sheets at once, which is impressive. There's an optional 550-sheet tray, too.
It's also pleasing knowing that the intuitive 4.3″ LCD control panel makes accessing the printer's settings and commands a breeze. Plus, with the auto on/off feature, you don't need to manually turn the printer to make a quick print.
The HP LaserJet Pro M479fdw can print over dual-band Wi-Fi, USB, and ethernet when it comes to connections.
3. HP OfficeJet 3830 All-in-One Wireless Printer
A printer that never runs out of ink? Enter the HP OfficeJet 3830, an all-in-one printer compatible with the HP Instant Ink service. With this service, your printer will order ink on your behalf before the cartridges are empty. This way, you won't ever have to deal with an empty printer. Not to mention, you'll get the ink cartridges delivered right to your doorstep at discounted prices—all exclusive from OfficeJet.
The HP OfficeJet 3830 has a lot to offer, moving on to the printer's features. The HP Smart app allows you to print documents or photos directly from your smartphone over dual-band Wi-Fi. The print speed is 8.5 ppm, which is considered average for an inkjet printer.
The Wi-Fi is self-reset, which pretty much fixes over 99% of the most common printer connectivity issues. Moreover, you can print directly from a USB drive. Another cool feature is the Quiet Mode that lets you print your documents without disturbing your students
.
In addition, you can print, copy, or scan directly from the printer using the touchscreen display without even having to touch your computer. The OfficeJet 3830 also has an Auto Document Feeder for effortless document scanning and copying.
Now, What to Choose?
Teachers must have the privilege to quality good printers at the right price. But as people are always locked on a busy schedule, there's even no time for well-structured decision-making when it comes to buying new printers. In that case, you may have your inquiries by contacting us here. We will provide the best products and services just for you
If you are in Overland Park and you are looking for a Copier in Overland Park for your business, you may contact Clear Choice Technical Services in Overland Park. You can ask about Copier Leasing Services in Overland Park, Copier rental services in Overland Park, and Copier Repair in Overland Park.